A validated testing procedure suitable for scaling and mass-testing of vaccine efficacy
Stockholm, February 25, 2021: Capitainer today announced that Sweden's Västerbotten Region will be the first region to use Capitainer's home sampling kit, qDBS, for antibody testing for COVID-19. Adults will be able to order the kit online via the national online health portal 1177 in collaboration with Direkttest.se.
People over the age of 16 in Västerbotten Region will be able to test for antibodies against COVID-19 at home starting March 1st. Instead of visiting a clinic, they can order Capitainer's sampling kit online via 1177.se and have it sent to their home address by regular mail via Direkttest.se. The test is carried out at home and then returned by regular mail to a laboratory for analysis. The results of the test can be accessed by logging in to Direkttest.se. The service developed by the Västerbotten Region opens the way for the 20 other regions in Sweden to follow their example.
Initially, when the project started, the goal was to both enable high-risk groups or individuals in sparsely populated areas to be able to test themselves at home, but also to take pressure off an already burdened health care organization.
Gunilla Persson, Deputy Infectious Control Physician in Region Västerbotten comments: "This is an important step forward! Now that an accredited laboratory has validated a home sampling test for clinical use, we can also offer home tests for antibodies to the whole population", says Gunilla Persson.
Västerbotten is Sweden' second largest county covering some 48,000 km in the far north. The population numbers 268,000 and is low density with a significant proportion of elderly people, many living alone. The ability to test oneself at home makes it easier for people who live in a remote place or have difficulties getting to a clinic due to illness or other reasons.
"Capitainer's home sampling kit is an ideal for meeting the challenge of COVID-19 testing in sparsely populated areas with a high proportion of elderly residents, many of whom live alone, as in Västerbotten Region", says Julia Wigren Byström, CEO of Xerum, who will carry out the analyses of the tests at the accredited laboratory. "Enabling home sampling increases patient safety, is good for the environment, saves money and resources and contributes to the region's goal of equal care for all. The home sampling kit is safe and easy to use. The analytical result is of the same quality as that based on venous blood, ie, blood drawn from the armpit," she says.
Capitainer's CEO Christopher Aulin hopes that several healthcare providers, both in Sweden and in Europe, will follow Västerbotten Region's example and offer the population home sampling for antibody testing against COVID-19. Capitainer also believes that antibody testing will play an important role in monitoring the effectiveness of vaccines.
"We know that laboratories have been under severe pressure during the COVID-19 pandemic. The validated method created by Västerbotten Region in partnership with Umeå University opens up for other regions to also offer simple and safe clinical home sampling for antibody analysis", says Christopher Aulin.
About home sampling with qDBS
Capitainer's product qDBS is based on Dried Blood Spot (DBS) technology and is developed by researchers in nanotechnology at Royal Institute of Technology (KTH) in collaboration with researchers from Karolinska Institute. Unlike other DBS-based solutions, qDBS ensures an accurate amount of blood, providing more reliable analytical results and enabling more uses. The sampling card can be transported to a laboratory by regular mail without the need for refrigeration or special packaging.
For more information, please contact:
Christopher Aulin, CEO
Phone: +46 708 977 577
Email: aulin@capitainer.se
Media
Richard Hayhurst/Ola Bjorkman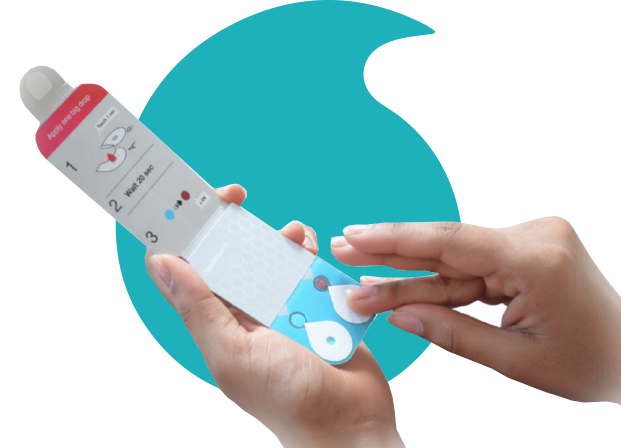 Notes to Editors
Capitainer AB is a Swedish Medtech company founded in 2013 by Professor Olof Beck from the Department of Clinical Pharmacology at the Karolinska Institute and Professors Göran Stemme, Asso. Prof. Niclas Roxhed and PhD Gabriel Lenk from the division of Micro- and Nanosystems at the Royal Institute of Technology (KTH), Sweden and business consultant Peter Bräutigam.
Capitainer is a supplier of intelligent solutions for Dried Blood and Plasma Spot sampling serving several market segments, including but not limited, to Therapeutic Drug Monitoring, Drug Development and Drugs of Abuse and Alcohol testing. By using a combination of paper- and polymer microfluidics the precision and accuracy of metering of capillary blood is on par with that of a standard displacement pipette. Thus, the technology enables more convenient solutions for healthcare sampling and patients' home sampling ensuring more reliable test results for healthcare and other providers of tests based on blood or plasma.
For more information visit www.capitainer.se