Capitainer's qDBS dried blood spot system for home self-sampling proves 97% effective for clinical mass-testing of Covid-19 vaccine efficacy
Stockholm, Sweden, May 4, 2021. Swedish medtech start-up Capitainer today announced that its proprietary home self-sampling kit for analysis of Covid -19 antibody levels, has been shown to be suitable for clinical population testing. In a recent Swedish large scale population study, 97% of the samples self-collected and returned to the lab by private individuals met the official quality standard for accurate analysis resulting in clinical diagnosis.
"Based on 2,500 samples analysed so far, 90% of the Capitainer cards delivered to the private individuals involved in the study were returned with an unprecedented 97% meeting the approved quality standard for analysis", says Julia Wigren Byström, CEO of Xerum, the company performing the analysis.
For large-scale population testing, home self-sampling is the preferred option for several reasons, especially during an ongoing pandemic. Home self-sampling does not require visits by nurses or phlebotomists, it can be carried out without burdening the healthcare facilities already under great pressure and individuals do not need to travel or make extra visits to a clinic.
Christopher Aulin, CEO if Capitainer comments:
"I am extremely happy to see the excellent performance of our self-sampling technology. We can now say with confidence that large-scale population testing can be based on self-sampling at home with our product. We have shown that clinical analysis of antibodies against the virus causing Covid-19 using samples collected on our cards works in a real-world setting. We envision a growing need for large-scale testing to ensure that the immunity created by the various vaccines protects against further spread of the disease and illness, especially since new mutations of the virus continue to emerge. We are currently building additional capacity for meeting these needs."
Capitainer's home sampling technology is already employed in other studies.
"Last week, our collaborating laboratory Xerum in Umeå announced the start of a study performed for the Public Health Agency in Sweden using the Capitainer card for home self-sampling of dried blood spots for analyzing the duration of immunity in individuals who have recovered after the disease," says Christopher Aulin. "And a couple of months ago, we announced a collaboration with Harvard Medical School using our qDBS system for home sample collection in a nation-wide COVID-19 study in the US."
About home self-sampling with qDBS
Capitainer's product qDBS is based on Dried Blood Spot (DBS) technology and is developed by researchers in nanotechnology at Royal Institute of Technology (KTH) in collaboration with researchers from Karolinska Institute. Unlike other DBS-based solutions, qDBS ensures an accurate amount of blood, providing more reliable analytical results and enabling more applications. The sampling card can be transported to a laboratory by regular mail without the need for refrigeration or special packaging.
For more information, please contact:
Christopher Aulin, CEO
Phone: +46 708 977 577
Email: aulin@capitainer.se
Media
Richard Hayhurst/Ola Bjorkman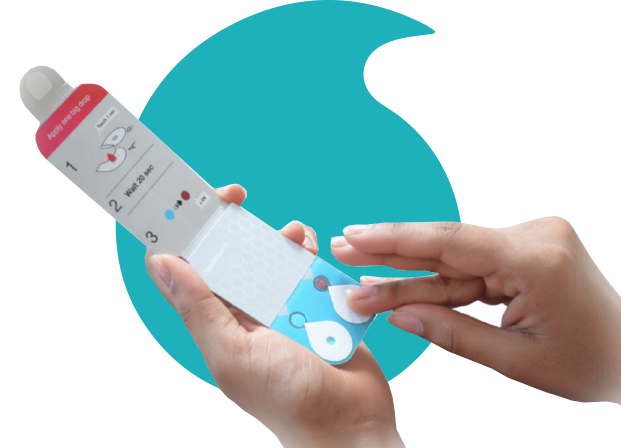 Notes to Editors
Capitainer AB is a Swedish Medtech company founded in 2013 by Professor Olof Beck from the Department of Clinical Pharmacology at the Karolinska Institute and Professors Göran Stemme, Asso. Prof. Niclas Roxhed and PhD Gabriel Lenk from the division of Micro- and Nanosystems at the Royal Institute of Technology (KTH), Sweden and business consultant Peter Bräutigam.
Capitainer is a supplier of intelligent solutions for Dried Blood and Plasma Spot sampling serving several market segments, including but not limited, to Therapeutic Drug Monitoring, Drug Development and Drugs of Abuse and Alcohol testing. By using a combination of paper- and polymer microfluidics the precision and accuracy of metering of capillary blood is on par with that of a standard displacement pipette. Thus, the technology enables more convenient solutions for healthcare sampling and patients' home sampling ensuring more reliable test results for healthcare and other providers of tests based on blood or plasma.
For more information visit www.capitainer.se